Feiring Angus Ranch
SALE UPDATE
The offering will be penned up 2 days before the sale, or you can come at your convenience.
Videos of the bulls and females are available on
Bill Pelton's website, www.billpelton.com and conference call available, call Bill at 406 671 5100 to register
DVAuction to make purchases!
We are also offering 100% satisfaction guaranteed for sight unseen purchases.
Please give us a call, we will help you anyway we can.
Conference Call available so you can call and bid that way
One on one call can be arranged with someone on the phone
We can take your order and we will bid for you on the lots that you are interest in as if you were present.
This way we can minimize the number of people who come the sale. I hope and pray this has all past by then, but I feel this is our only option for everyone's health. Please call with any questions or concerns. Thank you for your support and understanding. We are looking forward to the many phone calls to come in the near future.
26th Annual Production Sale
Saturday, April 18th, 2020 @ 1:00pm
At the Feiring Ranch 3 miles East of White Earth, ND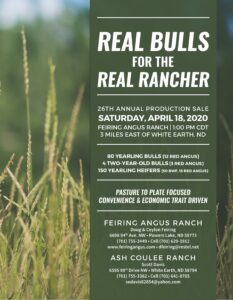 The Bottom Line?  More for Less!
Our philosophy is to keep it simple.  Located 3 miles east of White Earth, ND, Feiring Angus Ranch has been producing superior Angus cattle for the commercial cattleman for generations.
Many people try to improve, or push genetics beyond a balance with Mother Nature. Mother Nature does a far better job culling and selecting cattle than man does! We have bred cattle that thrive in the weather extremes that North Dakota faces routinely. We are truly blessed to have been able to work with livestock and Mother Nature for the past six generations.